What are the common career paths in fire and security engineering?
There are many students who know that they wish to pursue a career in fire and security, however a lot of these students don't know where they should start. Using my experience in dealing with both students and employers, I felt that it would be a good idea to write a short article detailing the career paths available in the fire and security industry.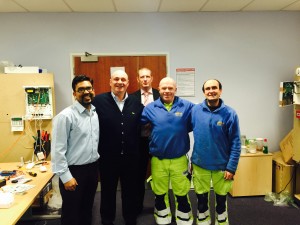 Entry into the professions of CCTV technicians, intruder alarm engineers or fire alarm technicians is entirely dependent upon your qualification levels and experience within the field. There are two ways in which you can begin your career in this area: vocational training or absolute starter.
People who choose vocational training will typically begin their careers in an entry-level technical role, such as a CCTV installer or structure cabling for fire and security. The training will provide them with the insights needed for future roles, in addition to the much-needed certificate, which acts as evidence for potential employers. After starting a career, students will learn about different areas of the business, such as electronic security products, electrical knowledge, health and safety, and the day-to-day challenges related to the industry.
Because training provides a solid understanding about British and European standards, such as BS50131, BS5839, BS50173, TIA/EIA 568B and so on, they will be expected to perform well during their probation period with an employer. Once they acquire the necessary practical skills and a greater depth of understanding about the fire and security industry, they can move into senior engineering roles such as CCTV engineer, project manager, fire alarm designer and so on.
Those students who are non-graduates, or absolute starters, will usually enter the field as an apprentice, perhaps with a security installation company, and will then move onto entry level roles such as an assistant CCTV installer or a handyman before they start a senior role. Most employers prefer a fast progression into a senior role, and may like to see evidence of your understanding of the industry. Other employers provide in-house training.
Once you have progressed to a senior engineer, you can either stay at this level or excel to an operational management position. This brings more responsibilities, as you will also be expected to understand costing and be involved in day-to-day management activities, including managing a team and account management. On the other hand, some engineers decide to move sideways into fire and security designing. Here, you are expected to have a solid understanding of compliances.
You can also find opportunities for self-employment within the fire and security industry. There are a number of sub-contractors who work on a project-by-project basis. This is generally a more independent career path, however you should possess basic business-running skills.
Wondering what you should do now? Check out our expert career advice at:
www.cctvdvrsystem.co.uk
We are an approved NCFE centre runs hands-on experience training programs for CCTV, intruder and fire alarms. For more information about our accreditations and the qualifications that we have to offer, please visit our Intruder Alarm Installation Course, or phone us on +442083201445.