Which one to choose – an SSD or an HDD?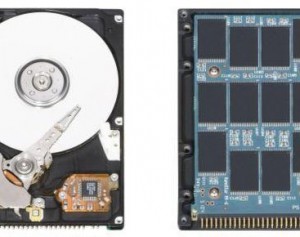 When designing surveillance or monitoring systems, a reliable and functional storage device for the operating system is a must. Capacity is a major issue, but so too is writing speed as there is no point in paying for a massive storage device if you have to wait until Christmas for your files to save!
Technology has changed, big time
Not so long ago it was easy to buy a hard drive for a computer. The user would simply choose the top 3 or 4 highest capacity drives that they could afford and then pick the one with the fastest read and write speed. However, since the launch of the SSD or Solid State Drive, there are far more issues to address than just affordability.
What is a HDD and does it work?
The traditional PC storage device, the Hard Disk Drive (HDD) is essentially a collection of disks known as platters, covered in magnetic coating and spun at high speed. Data is recorded by the drive heads changing the magnetism of the coating on the platters. This process is fairly labour intensive, with disks being spun and heads being moved, which can take time and can result in performance issues for the PC. This movement of components is also fairly power hungry, which is not such an issue for PC based devices but on laptops and netbooks can cause quite an issue.
The process of reading and writing from a HDD is highly precise, with the heads coming to within a human hairs breadth of the platter surface, so a knock or bump at the wrong moment could cause contact to be made and significant amounts of data to be lost. Most drives employ some form of shock protection to reduce this issue but it is still a possibility and something which should be taken into consideration when purchasing a storage drive.
And how about an SSD or Solid State Drive?
The alternative is the SSD or Solid State Drive. With these drives there are no moving parts, no platters, no spinning discs, just a good deal of memory chips. There are essentially like oversized flash drives which we use daily in our cameras, MP3 players and memory sticks. The technology is still rather expensive however, and in comparison to HDD technology SSD is much lower capacity for much higher prices.
So, which is the way to go?
If you have the budget to invest, the advantages of SSD are significant. The performance of the SSD far outstrips that of the HDD. A typical HDD may take 3 – 6 seconds for the platter to reach full speed and for the head to move and the disk to reach the required point. With an SSD the drive is ready to go instantly. The result of this difference is that data access from an SSD can be up to 50 times faster than with an HDD.
However, the read and write speed is much closer to that of the HDD so the overall performance change is not as great as you might hope for the investment; however the time for the PC to boot up can be dramatically reduced which for many is a very attractive feature.
In summary
Overall it is clear that the SSD is a technically superior technology, but the price does have to be taken into account. Right now, huge 2TB HDDs are available from well under £100, whereas the same amount of money might get you around 3% of the storage space for a SSD – about 64GB. For up to 500GB you could be looking at close to £1,000 investment.
With this in mind, unless you have an unlimited budget then your first choice for a desktop PC should always be a standard HDD. However, if you want to optimise an existing PC you could always combine SSD technology with your standard HDD device using a fast, low capacity drive for your operating system whilst the data and applications remain on the HDD. If you are using a laptop in place of a desktop which runs a variety of applications and processes, then again the SSD will probably be too expensive to be worthwhile, but if your laptop is just for monitoring your CCTV and the CCTV data is stored elsewhere then you may be able to purchase an affordable SSD to improve boot up times and application start up times.
Learn everything you need and start your career as a CCTV installer
Interested in technology in the security industry? See the demand for CCTV technology? Get on board with us then: see our latest offers of CCTV installation courses here.