A restaurateur started his journey as a CCTV technician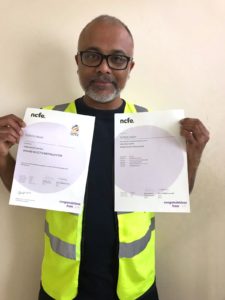 Sondu from East London completed a 3-day CCTV installation training course.
A restaurateur started his journey as a CCTV technician. Mr. Sondu runs a takeaway restaurant in East London and one day he decided to install CCTV cameras in his restaurant.
After installing the video surveillance system, he realized that his restaurant was working well. It had helped to protect his business, staff, and customers. It had also increased the efficiency of the business.
He was very quick to see the opportunity and the necessity of a security system to a small business like his. He thought he could add value to businesses like his by providing CCTV solutions, while also securing a good income.
He decided to explore the nitty gritty of CCTV installation. He helped his friends to install cameras in their houses and shops, however, he wanted to learn CCTV in a proper way and be qualified.
He wasn't sure where to begin and started looking for a training program and a recognised certification.
He found out about Cube Level 3 Award in CCTV Installation. Cube provides NCFE accredited courses in CCTV, Alarms, Access Control & Fire Alarms.
He joined Cube's Level 3 Award in CCTV installation, because unlike other course providers, Cube was delivering up-to-date hands-on experience training programs.
Cube experienced tutors were able to mentor Sondu to start his own security installation business.
Cube also showed him how to find new customers and helped him to grow his business. Sondu has completed more three CCTV installation projects in a very short period of time, and is now running his own security company in East London.
Are you tired of your job?
You can get sick and tired of your job when it is boring, unfavourable, or when you repeat the same stuff every day.
Do you want a challenging and rewarding career?
On average, a CCTV technician earns £29,000 per year. Don't just take our word for it, have a look at what Total Jobs has to say.
Why Cube for CCTV Installation Training?
A recognised certification in CCTV Installation
Hands-on training
100% student satisfaction
Learn more 0333 006 4005