Fire Alarm Installation Course
Are you looking into a career in Fire Alarm Installation? Perhaps you're looking for a certification that will validate your knowledge and experience in the field of Fire Alarm Installation.
Fire alarm installation course fee: £799.00 (All inclusive) | 4 Days | Max. 5 Candidates –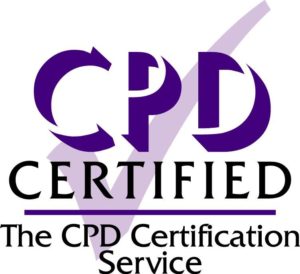 Accreditation
The content of this course has been independently certified as conforming to universally accepted Continuous Professional Development (CPD) guidelines.
Our Fire Alarm Installation course provides participants with the knowledge and skills necessary to work on fire alarm systems competently.
Are you looking to start a career in fire alarm installation?
The Cube fire alarm installation course is a starting point for anyone who is seriously looking to pursue a career in fire alarm installation.
Maybe you are an electrician or someone who has a strong understanding of electrics, who is looking to learn fire alarm installation. This course provides a solid foundation in fire alarm installation and the industry standards.
This is a 4-day hands-on course, which provides you with insights into fire alarm installation and BS 5839 Pt 1 and Pt 6.
Topics include circuit theory, assembly, panel programming, testing, troubleshooting, fire alarm certifications and relevant industry standards.

Pre-requisites
Fire Alarm Installation course is designed for those who have an electrical background (for example maintenance electricians) or for those who have successfully completed NVQ level 2: Electrical Maintenance Skills.
Why is electrical knowledge important in fire alarm installation?
It is very important to understand the association between fire alarm installation and electrical installation. In order to install and maintain a fire alarm system, a basic knowledge of electrics is a must.
As fire alarm installation should strictly comply with BS5839, it also demands the installer to have a very sound knowledge of BS7671 IET wiring regulation.
Not all fire alarm systems demand a mains connection, there are smoke detectors which sometimes do not require a mains connection in domestic dwellings. It all depends on the grades of the system.
However, when a fire alarm system is connected to the mains, it should comply with the standards.
Course Objectives
During our Fire Alarm Installation course, you will be learning about a range of industrial fire alarm panels and associated components. You will learn how the devices fit into the system, how they function and the way in which they should be configured, connected and tested.
On-going assessments ensure us that you are able to meet the objectives of the course. Booklet will be provided.
At the successful completion of this course, the learner will be able to:
Demonstrate the basic key concepts and all the components used in fire alarm systems.
Install, test and maintain conventional and addressable fire alarm systems.
Recognise the role of fire alarm outputs, automatic and manual fire detectors.
Describe the differences between fire alarm categories and grades.
Explain the role of a fire alarm installer.
Effectively work with other stakeholders in fire alarm installation.
Course content
The course is divided into six sections:
Introduction to Fire Alarm Installation
Basic components of a Fire Alarm system
Electrical and fire alarm installation
Introduction to BS5839
Practical installation of fire alarm systems
Testing and certification
Introduction to Fire Alarm Installation
History of fire alarm installation
The importance of fire alarm systems
The different stakeholders in a fire alarm installation
Role and responsibilities of a fire alarm installer
British standards in fire alarm installation
Basic components of a fire alarm system
Detectors
Automatic detectors
Manual detectors
Control panel
Addressable and conventional
Outputs
Basic outputs
Electrical and fire alarm installation
Ohm's law
Voltage drop calculation
Backup battery calculation
Electrical health and safety
Cable segregation EN 50174-2:2000
Introduction BS5839
Practical installation of fire alarm systems
Conventional fire alarm system installation with smoke, heat, MCP and outputs.
Addressable fire alarm installation with smoke, heat, MCP and outputs.
Testing and certification
Testing a fire alarm system
Role and responsibilities of a fire alarm installer
Fire alarm certifications
Installation and Maintenance of Fire Alarm Systems Practical
Risk assessment for installing and maintaining systems
Standards and regulations
Determining fire compartments, examination of components
Circuit diagrams
Installation o fire alarm system and commissioning of system
Sound level testing
Battery capacity calculation
Fault-finding
Successful completion of the course leads to Certificate of Attendance in Installation of Fire Alarm Systems.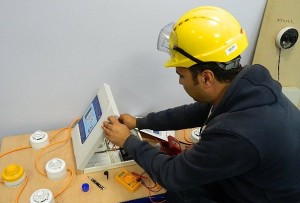 How about fees, course length and number of participants?
Course fee: £799.00 (All inclusive)
Course Length: 4 DAYS
Next course due: 
Course calendar 2018 – Sheet1
This schedule is subject to change. Changes, if necessary, will be posted on this website. Please check with our booking team before making any arrangements.
Course application form
Number of Participants: 5 Candidates
Interested? Call us on 0333 006 4005 / 077 2441 9413 or we can call you back!