Fire Alarm Installation Course
Fire alarm installation course fee: £799.00 (All inclusive) | 4 Days | Max. 4 Candidates –
Our Fire Alarm Installation course provides participants with the knowledge and skills necessary to work on fire alarm systems competently.

Participants
Fire Alarm Installation course is designed for those who have an electrical background (for example maintenance electricians) or for those who have successfully completed NVQ level 2: Electrical Maintenance Skills.
Course Objectives
During our Fire Alarm Installation course You will be learning about a range of industrial fire alarm panels and associated components. You will learn how the devices fit into the system, how they function and the way in which they should be configured, connected and tested.
On-going assessments ensure us that you are able to meet the objectives of the course. Booklet will be provided.
Course Contents
The Fire Alarm Installation course covers the following areas:
Health and Safety
Regulations legislation and codes of practice
BS5839-1: 2002
BS5839-6: 2004
Buildings – compartments and zones
Design considerations and system categories
BS5839-6: 2004 system grades and categories
Types of fire alarm system and automatic detector
Positioning of detectors to BS5839-1:2002 section 22.3
Manual call points, sounders and visual alarms
Circuit diagrams of detection
Requirements of a conventional panel
BS 7671:2008 references to fire protection
BS5839-1: 2002 recommendations for cable installation
Responsibilities of installer, inspection and test of wiring
Commissioning and handover, maintenance
Fault finding
Installation and Maintenance of Fire Alarm Systems Practical
Risk assessment for installing and maintaining systems
Standards and regulations
Determining fire compartments, examination of components
Circuit diagrams
Installation o fire alarm system and commissioning of system
Sound level testing
Battery capacity calculation
Fault-finding
Successful completion of the course leads to Certificate of Attendance in Installation of Fire Alarm Systems.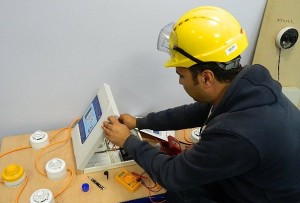 How about fees, course length and number of participants?
Course fee: £799.00 (All inclusive)
Course Length: 4 DAYS
Next course due: 
23rd Jan 2017 – 4 days (Monday to Thursday, 10am to 3pm)
20th Feb 2017 – 4 days (Monday to Thursday, 10am to 3pm)
20th Mar 2017 – 4 days (Monday to Thursday, 10am to 3pm)
18th April 2017 – 4 days (Monday to Thursday, 10am to 3pm)
This schedule is subject to change. Changes, if necessary, will be posted on this website. Please check with our booking team before making any arrangements.
Course application form
Number of Participants: 5 Candidates
Interested? Call us on 0333 006 4005 / 077 2441 9413 or we can call you back!