Course duration: 3 days (10am – 4pm), Course fee: £564.00 (All inclusive)
This course is accredited by
Are you thinking of starting a new career in CCTV installation? We offer more than that! CCTV installation training
We at Cube Training are a CCTV installation company which has been present in the CCTV installation market since 2006. We have installed CCTV systems in local shops, supermarkets, office buildings, industrial places, dwellings and more.
We also have been educating keen people who are interested in CCTV installation training since 2010. As of 2017, we have trained many students in CCTV installation courses, this includes private companies, local government agencies, foreign companies and many more organisations.
CCTV Installation Courses – "Unlock your earning potential"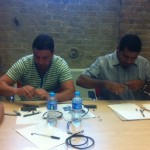 What makes us unique in the CCTV installation training industry?
We understand the CCTV market very well and we keep updated with current trends which enable us to deliver the most updated version of CCTV installation training. We are excited to share some of our past student's testimonials. We not only train students in installing and maintaining CCTV, we also understand many of you need market expertise to be a successful CCTV installer or to start a new career in CCTV installation, therefore we provide a free consultation on marketing and other business support services. (Please speak to one of our course consultants to know more about this service)
We offer a highly practical

Practice makes perfect and we understand nothing works better than a practical session. Our course is 85% practical and you will practice on CCTV system designing, CCTV installation, commissioning, and maintenance. All these areas require practice, practice, practice and more practice and our course is designed to provide you with the maximum access time to all the tools, cameras, DVRs, IR lights, etc.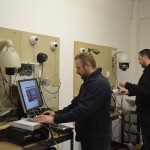 Picture left – CCTV Installation Course students We have trained many students on our CCTV Installation Course.
To ensure this and the undivided attention of the trainers, only maximum six participants are taken on the course. Let's see what the course is all about, shall we?
Cube presents:
CCTV Installation & Maintenance Course
Code: C3529
Cube Award in CCTV Installation – level 3
Accredited by NCFE
This course covers areas of CCTV installation training with DVR IP setting, PTZ installation, CAT5 in CCTV and many other important aspects of CCTV installation. At the successful completion of the CCTV installation training course, you will be able to install and maintain CCTV systems with remote viewing facility for small and medium size projects.
You will be awarded a highly recognised certificate at the end of this course.
more about us
What will I get at the end of course?
You will be awarded a Cube award in CCTV installation – level 3, this certificate will briefly highlight all areas which you have covered on the course. We are very proud that our customised Award in CCTV installation – level 3 is verified and awarded by NCFE.
Our course has been accredited by NCFE, an awarding organisation recognised by the qualification regulators for England and Wales. NCFE's regulators are the Office of Qualifications and Examinations Regulation (Ofqual) in England, Qualification Wales and CCEA regulations. This course isn't regulated by Ofqual but has been accredited by NCFE as a Customised Award.
For more information, please click here
What is NCFE?
NCFE is a national, educational awarding organisation that designs, develops, and certificates nationally recognised qualifications and awards – as well as accrediting customised qualifications developed by third parties and private training institutions. It is a registered educational charity that has been passionately dedicated to learning for over 150 years.
NCFE is recognised as an awarding organisation by the qualification regulators for England, Wales and Northern Ireland, including Ofqual, the Welsh government, and the CCEA in Northern Ireland.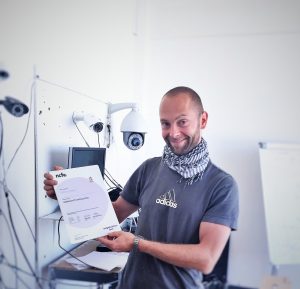 Prerequisites
The course is designed for anyone who has a desire to pursue a career in the CCTV industry. However, you are expected to have basic skills in numeracy, experience in using power tools and basic understanding of workplace health and safety (Ideally level 2 health and safety at work place).
Have you got a desire? Read on then as the course requires no former studies or qualifications.
What does the course cover?
Our Award in CCTV Installation covers the following areas:
FIVE compulsory units must be completed by all students
Unit 1 Introduction to CCTV
Introduction to CCTV installation

CCTV Video signals (H 264, Mpeg 2)

Cabling and connectors (CAT5, CAT6 & Coax)

Crimping BNC, CAT5 & keystone connectors

Video transmission (analogue to digital, megapixel cameras)

Assembling a CCTV system Troubleshooting using CCTV tester
Unit 2 Electrical and CCTV installation
How to design a cable run

Introduction to Ohm's law

How to choose the right type of cable

Installing CCTV cameras with RG59 & CAT5

Installing CCTV power supplies

Using electrical tools
Unit 3 – CCTV system designing
Introduction to recording resolution, frames per second & lens sizes

How to calculate field of view (Selecting the correct types of lens size, recording resolution and configuring frames per second)

Digital CCTV storage and lighting (DVR storage calculator, Illumination and camera sensitivity in CCTV)

PTZ camera installation (Protocols, baud rate in PTZ

Installing camera housing for bigger projects with power
Unit 4 – Practical wiring of CCTV system
Running cables for a CCTV system (CAT5 & coaxial)

Installing passive and active balun for long CCTV cable run

Running shotgun cable and use of cable pulling tips and techniques

Installing junction boxes
Unit – 5 Networking in CCTV
Remote access and mobile app viewing

Local area networking and wider are network

Assigning a local area IP address to a DVR via DHCP

Techniques used in assigning a unique and static local IP address to a DVR

Private and public IP address

TCP and IP setting

Mobile phone view through P2P
Successful completion of the course leads to a level 3 award in CCTV Installation awarded by NCFE.
Assessment criteria's
The overall pass mark is 60% for assessment and written exam.
As this is a level 3 qualification, you are required to sit for a short answer written the exam and a practical test. You must score more than 60% to pass the course.
If you fail at your first attempt, you may be given up to two more opportunities to pass it through a reassessment of failed units at the next assessment period. These opportunities to retrieve an initial failure take place at certain times designated by the centre.
And if you fail in both attempts, you must re-take the entire course and pay the full fee.
Can I appeal against the decision of the assessment board?
Yes, you can submit an appeal if you think:
There has been an error or irregularity in the assessment process
That the decision is not in accordance with the approved assessment regulations
Click here for appeal procedures (Please note this page is password protected. Please use password 2121.
Read some of our students' testimonials: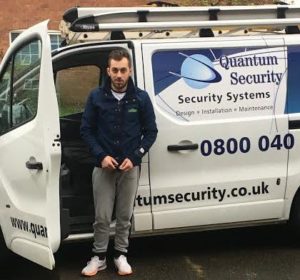 I Constantin work for a leading security company in London. My sincere thanks go to Ferdinand and Cube Training. The hands-on training, well-recognised certificate & after training supports were outstanding. I will definitely recommend Cube Training. 
I am a satellite installer. I came to Cube Group Ltd to learn CCTV and to get a certificate. I was highly interested in CCTV; I felt it was related to what I was doing.
I wanted to get certified in CCTV as I'd had an experience with the police before: I was once stopped when I was installing a satellite so I had to show them my certificate.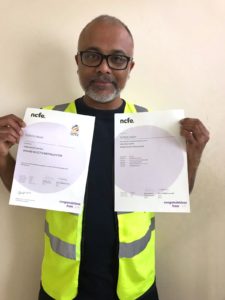 When I came to the CCTV Installation Course, I had already known a little bit of CCTV. During the course, however, I had a great overview of the field and I got my certificate too. Moreover, I have started my own company (Vision Satellite) and now I install both satellites and CCTVs.
Robert
I worked in security installation before I came to the CCTV course. I'd already known a lot about the stuff. However, I needed a certificate because I wanted to get a new job and I also wanted to do IP.
Was the training a success? Well, I work for British Transport now. My job is installing cameras. I am pretty much satisfied with the results.
Veaceslav Cubani
'I would Like to thank Ferdinand for his support and sharing his wealth of experience and knowledge In CCTV Security Systems, I am an Ex-Police officer with no DIY background at all, however the course has given me greatest insight within the CCTV Sector, which has added to my portfolio of Security and Law Enforcement experience, the course was very enjoyable and now I have the ability to fit and Install CCTV with no hesitations, I recommend choosing Cube Group Ltd as they are the leading experts when it comes to Electronic Security Systems in the UK Market, Best wishes'. –
Jaspal Lall – CEO (Ex-Police Officer)
J S Global Security Solutions Ltd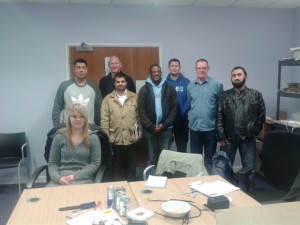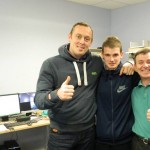 How about finding a job after the course?
This is weighty matter, isn't it? We, at Cube, have created a bonus module integrated into our CCTV Installation Course. This module helps you to prepare yourself for electronic security installation market.
This module teaches you:
How to apply for a job

Places to look for in finding CCTV jobs
Writing your CV
Presenting yourself at job interviews

How to find work for yourself

Using online directories to get leads
Promotions
Asking for referrals
And this is not all! We provide more!
We are in connection with more than 40 Companies
Cube is in connection with over 40 companies and firms within the industry. We regularly update our course contents in line with current market demand.
Moreover, we pride ourselves on learners satisfaction.
In summary
You get an in-depth practical course from a company that practices what they teach
You are provided with an invaluable bonus module that arms you with the knowledge to find a job or find work for yourself
We share information about quality CCTV suppliers
How about fees, course length and the number of participants?
Course fee: £564 (All inclusive)
Course Length: 3 DAYS (10am to 4pm)
Payment

Next course due:
This schedule is subject to change. Changes, if necessary, will be posted on this website. Please check with our booking team before making any arrangements.
(Course are normally conducted from Friday to Sunday 10 am to 4 pm. If you opt for a week day course, please call us on 0333 006 4005 )
Venue:
Cube Training
Unit 2
Crabtree Manorway South
Belvedere
DA17 6BJ
United Kingdom
Number of Participants: 5 Candidates
Eager to start ASAP? Or have further questions? We are more than happy to hear from you.
Please call us for course application form.
Call us on 0333 006 4005 or 077 2441 9413 or if you want a call-back, fill in the form here:
P.S.: Don't hesitate a minute. There is space in the market as demand is high. It's time to take a step and secure your financial stability. Call us now and secure your place in our CCTV Installation Course.