Access Control & Door Entry Course
Access Control Course fee: £288.00| 2 Days | Max. 5 Candidates 
Time: 10 am to 2 pm
Our access control course provides participants with the basic knowledge and skills necessary to kick start a career in Access Control.
Our basic access control training course provides a solid understanding of how an access control and an audio door entry system works. You will learn about the basic components of access control system, how an analog audio entry system can be linked with a door station, practical installation of entry devices, attributes of entry devices, different types of entry devices wiring techniques in access control & door entry and troubleshooting techniques.
Participants
The access control course is designed for beginners.
Course Contents
If you are an engineer or newcomer to the security industry and looking to expand your knowledge about access control and door entry systems, we have the right course for you. Our access control course will give you a solid foundation to your professional career in access control & door entry. The two day workshop fully equip with all tools provides you the insights of access control and door entry installation.
Course Objectives
The course covers the following areas:
Basic audio entry including overview of DDA
Keypad access system
Card entry access system
Cards & fobs
Electronic locks
PSU, exit buttons and ancillaries
Learning to add users, edit, and delete users
Physical wiring of a stand alone access control system
Testing, fault finding of an access control system
Final project of installing a stand alone access control system and one way audio door entry system.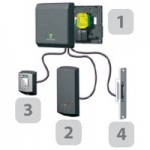 At the successful completion of the course you will be awarded with Certificate of Attendance in Basic Access Control 

Start date: 
Please speak to us on 0333 006 4005
Time: 10 am – 2 pm
This schedule is subject to change. Changes, if necessary, will be posted on this website. Please check with our booking team before making any arrangements.
For more information and future start dates, please call us on 0333 006 4005 or 0208 320 1445
Course application form
Interested? Call us on 0333 006 4005 or 07724419413