How to calculate CCTV lens?
CCTV lens is a complicated subject yet very important in terms of deciding what lens to buy. Lets look into our own eye sight, human eye is incredibly powerful device which can focus and adapt very fast to the required situation. In conjunction with a powerful brain, it can process the data much faster than any CCTV cameras in the world. In contrast CCTV lens can only focus on a pre defined object at a given time, therefore it is very important to understand how CCTV lens work.
Our eyes are very sensitive to light, when its too bright iris close and allowing limited light to pass through and when it is dark, it opens to allow more light to pass through. It is why when we stare at sun for sometimes and if you try to change your view to a dark place, you may not see anything for sometimes. This happens as your iris adjust and you will be able to see that object after few seconds. This is a common issue with some cameras, when it too bright, whole picture becomes very white out and you can not see properly.
It is very important to select the right camera lens in planing for a CCTV project. There are many high tech equipments will cater all kind of situations.
Exposure level of CCTV cameras
Exposure level in a CCTV camera can be controlled by shutter speed and iris opening and closing. There are many cameras which has very robust exposure level control.
AE Function (Automatic exposure)
In order to get better image quality in low light level automatic exposure is used, it detects the light level and adjust automatically to produce an acceptable video footage.
AWB Function (Automatic White Balance)
By adjusting the colour temperature of the camera according to the available light level, it can avoid camera seeing white out images. It will help the video footage's to show white colour as natural white colour instead of whitish image.
AGC Function (Automatic Gain Control)
This function is controlled by dip switch in the camera. To get better performance during low light level automatic gain control can be changed from 16dB to 26dB.
Lens format
In early days C – mount lens were very popular, this is box type cameras requires lens to work with. At present C-mount lens are very popular among SLR digital cameras. C mount lens normally come with male thread which will then will be connected to female thread in the camera. The flange focal distance for C mount lens is 17.526mm. It is very popular that you will find cameras with ½, 2/3 and 1/3 formats. Not all cameras are compatible with all lenses, one should take extra care in buying the correct format lens. To make things more complicated, latest addition to C mount format is CS mount. The main different between C mount and CS mount is flange focal distance. CS mount lens can not be used with C mount camera, yet you can use an adapter to fix CS mount to C mount cameras.
Lens size
It is very important to select the correct lens size, it depends on your CCTV plan. Home office UK released a CCTV requirements guidelines in 2009, in accordance with that you can use a CCTV camera for four different purposes.
Detect, recognise, observe and identify
Please see the below diagram, in each situations you will require different size of lenses to achieve the recommended outcomes.
Please click on the following image for a FREE CCTV lens calculator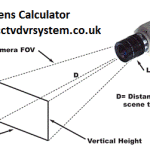 CCTV lens calculating formula
F = Focal Length of Lens in millimetres.
W = Width of Scene to be imaged – Horizontal Field of View
H = Height of Scene to be imaged – Vertical Field of View
L = Distance between Lens & the object
SH = Height of the imaging sensor in millimetres
SW = Width of the imaging sensor in millimetres
F = (SH (Height of the imaging sensor) x L (Distance between Lens & the object)) / W (Width of Scene to be imaged – Horizontal Field of View)
Sensor sizes in millimetres
1/3″ CCD sensor = H 3.6, W 4.8
1/4″ CCD sensor = H 2.4, W 3.2
1/2″ CCD sensor = H 4.8, W 6.4
2/3″ CCD sensor = H 6.6, W 8.8
1″ CCD sensor = H 9.6, W 12.8
Interested in learning more about CCTV installation and gaining a nationally recognized qualification, please call us on 02083201445 or visit