How to install CCTV cameras in an elevator?
Installing CCTV cameras in an elevator can be a time consuming and complicated task. As elevators are moving objects, running wires can be a real challenge. Elevators normally use travellers to run wires and any new wires can be fed through travellers. The elevator company should make provisions for you to run wires through their travellers or you can install a new traveller. However, installing a new traveller is an expensive option.
Elevator cable travel design & CCTV camera
In a conventional elevator all signals and currents are sent through a travel cable. Elevator cable is a special multi conductor cable continuously in motion, and usually has a long lifespan. There are two basic types of cables, they are round and flat. A round cable can contain as much as 120 conductors and offers greater flexibility.
Let's look at an old cable which contains 20-30 different size conductors, 14AWG (1.5mm2) for constant current for circuits, 18AWG (0.75mm2) for signals and 20AWG (0.5mm2) for telecommunications and coaxial cable for close-circuit television.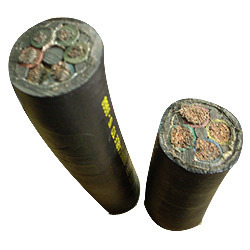 20AWG (0.5mm2) can be used for CCTV cameras and as many cameras require 12V power, this can be provided locally with the correct AMP.
The other option is to install a wireless transmitter and receiver, there are many wireless transmitters and receivers on the market, but you should make sure you select a reliable one. Cheap transmitters often cause interference and video will freeze at motion. You must also make sure you display a CCTV sign in the elevator for the data privacy act.
Using a laser signal for a wireless transmitter and receiver is high in demand. The laser optic transmitter will be mounted to the underside of the elevator cab, with the CCTV camera mounted to the ceiling of the elevator cab and wired via a coax cable. The wireless receiver will be mounted on the elevator shaft floor, aligned and pointed upwards to the transmitter. The receiver is connected with DVR via coax. The laser wireless receiver and transmitter can work up to 1,300ft, transmitter and receiver should be configured with same settings.
In conclusion I prefer laser wireless transmission, but it really up to the customer to decide based on his/her budget and other factors.
Do you want to know more about CCTV installation? join our next CCTV installation & maintenance course in London & Kent