Fire Alarm Installation Training
Our Fire Alarm Installation Training provides knowledge to join one of the UK's most lucrative industries. The UK fire alarm industry is growing at a great pace even in bad economy downturn. This is because safety is not to be compromised. Any business which employs five or more staff must have an appropriate fire alarm system in place.
Who is it for?
Our Fire Alarm Installation course is aimed at individuals who want to pursue a career in the fire alarm industry as a fire alarm engineer, designer, fire alarm sales person and other fire alarm related occupations.
What does the fire alarm installation course consist of?
The five-day course is a comprehensive structured program to ensure you get the best from your time in becoming a fire alarm professional. The course will consist of five main units, which are explained in the table below.
Day 1

Introduction to fire alarm systems
Understanding fire alarm components
British standards
Practical assembly of a fire alarm panel

Day 2

Design of a fire alarm system
Categories in fire alarm systems
Risk assessment
Fire codes: BS5839 Part 1: 2002
Practical steps to maintenance planning
Installing addressable automatic detectors

Day 3

Different types of detectors
Installing break glass call points
Wiring different fire alarm category systems
Backup battery calculations

Day 4

Using correct connectors and enclosures in wiring
Setting zones and loops
Setting sounders and bases
Fault finding with components
Performing walk tests
Testing each loops

Day 5

Commissioning the system
Completing the relevant paperwork
Issuing the certificates
Maintenance of the system
Do I get a certificate?
Yes, you will be awarded with a certificate in Fire Alarm Installation.
Any supports for students?
We have worked with many local fire alarm installers and blue chip companies. Our trainers have many years experience in fire alarm installation. We can provide you guidance in becoming a member of BAFE, NSI and SSIAB.
Can I become an approved fire alarm installer?
Yes, at the completion of the course. Our experienced tutors can guide you to become an approved fire alarm installer.
Do you have any student testimonials?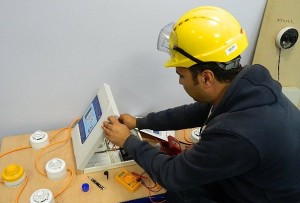 Shpend Ramaj was working as an electrician at WCPM Enterprise Limited. He always wanted to pursue a career in fire alarm installation. By doing our practical Fire Alarm Installation Training for five days, he is now confident and ready to be a fire alarm installer.
What does the job market demand from a fire alarm engineer?
Previous work-related experience or knowledge is required, for example electrical background or experience as a trainee fire alarm engineer.
Most employers require training in designing, installing and maintaining. Training from a vocational school such as F R Joseph Anton Limited is an advantage.
On the job training is another popular method of recruitment in this industry.
What are the normal tasks of a fire alarm engineer?
It really depends on the size and corporate culture of your employer. Usually in large companies different tasks will be assigned to different individuals. Sales people are given the responsibility to do all customer service and risk assessment. In small companies, you may be expected to do everything on your own.
You will be expected to:
Conduct risk assessments
Fire alarm plans
Mount control panels, detectors, feed cables through, position detectors and wiring
Once system is fully installed, performing testing
Commission the system
Test backup batteries, sirens, detectors, sounders and other components to diagnose any malfunctions
Prepare all relevant paperwork and issue certificates
Locate loose connections or broken insulation in a fire alarm system
Maintain a log book with all activities along with users
Deal with any paperwork or certificates resulted by modification to the existing system
Maintenance
What salary level am I expecting?
It depends on your employer, as a trainee you can expect anything between £18,000-£35,000. Factors such as your previous experience and qualifications will be a big influence.
Please check job sites for further information.
Do you want to start new career as fire alarm engineer or want to know more about this course?
Simply send us an email for call back. We will call you to discuss your options and our experts can guide you with your next career move.