Door entry & Access control system
Access control system components
What is a time clock in an access control system?
Timer in an access control system can programmed for 7 days, most with digital timer. Most of them work with 12V AC/DC voltage.
Time clock restrict Tradesmen entry facility and their often wall-mount with features such as
• 12V AC/DC operating voltage, LCD display, pre-set programming for all 7 days, 8 on/off periods, repeat options, override and etc
Larger timer module can work up to 10 hours with pre-set options.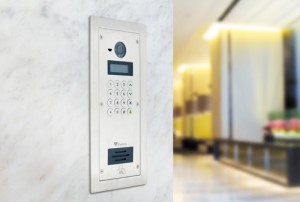 Exit Switch (flush mounting)
These switches are typically used in an access control system to release the door in the absence of a manual lock release. In most door entry system they operate by sending a 0v set door release. Out-door rated exit buttons or switches are normally manufactured in stainless steel and vandal proof.
Video distributors
Video distributors are used in large access control system to distribute videos to multiple handsets.
Flashing beacon
A flashing beacon gives an effective visual indication of a call in an access control system. Flashing beacons is ideal for areas with a high level of background noise or an area subjected to DDA.
Switching unit
The switching unit will allow operating a standard access controlled door entry system from two entrances. In some bell systems you can control up to 8 entrances. When a call is initiated from an entrance, the switching unit connects that call to a speech unit of the panel for a pre-decided period. By pressing the release button in the telephone release only the calling door.
Video signal amplifier
Poor video signal is a major issue with lot of access control system, by installing a video signal amplifier, video signals can be boosted.
Access & Door entry system installation course
2 day practical course, please call us on 020 8320 1445 for more information.