Domain name servers and their part in CCTV applications
Domain name servers, static IP addresses and dynamic IP addresses may well be terms that you often hear in relation to CCTV installation projects – but do you know what they mean? In this article, I have compiled some simple information that you need to know to help you understand more about the topic.
Domain name service is required in a CCTV application in order to set up the equipment for remote viewing. To put it simply, domain names are characters that are readable by humans, which then point towards either a singular IP address or multiple addresses. For example, if I were to tell you that the homepage for Yahoo.co.uk is http://212.58.226.75 it is unlikely that you would be able to remember it, however once you have the domain, it is easier to remember and access quickly when needed.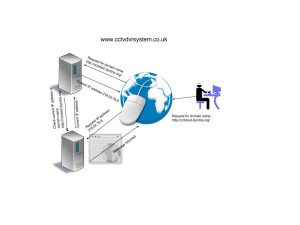 Domain names and CCTV
Domain names are used to find networkable devices (in this case DVR) in a wider area network. A CCTV server or DVR is given a domain name that will then point towards the IP address of the CCTV server or DVR in a wider area network. From previous articles, we know that DVR is assigned an IP address, and that this is used to locate it in a wider area network – the internet. To understand why it is necessary to use domain names instead of just IP addresses, it is important to study the difference between static and dynamic IP addresses.
What is the difference between a static and dynamic IP address?
An IP (internet protocol) address is the unique address of a computer or networkable device within a wider network. There are two types of IP addresses; local and public. This article will focus on the public IP address.
Firstly, let's try a practical task to understand more about public IP addresses. If you have a computer in front of you, go to Google and type 'what is my IP'. The number that comes up is your public IP address; the unique number given to your network within the internet.
In most cases, these addresses do not stay the same, and will change regularly. Your public IP address is assigned by your ISP (internet service provider). If they have allocated a static IP address, you will always see the same one whenever you search for it. It is not always easy to know whether you have a static or dynamic IP address, however your ISP should be able to provide you with this information.
In order to remotely connect your DVR, you will need to know the current IP address. If you don't have a static address this won't be possible. By using a domain name server, your DVR's IP address will be traced and located.
How does a domain name work?
A domain name server is an independent service operated by different private companies. The most popular one is the dyndns server. Firstly, you register your hostname and assign it to your DVR's IP address. Once this is done at the dyn server, you will copy the same at the DVR's end. You don't have to copy this to your router, but there is no harm in doing so.
When someone calls for your domain name, the DNS server will look for the device by locating its current IP address and will then pass that information to you. Once you have the DVR's active IP address, you will be able to connect.
Advantages of using domain name servers
If your ISP provide you with a dynamic IP address, a domain name can help you to locate your DVR in a wider area network. Domain name service is much cheaper compared with a static IP address, and it is also easier to remember.
UK's leading vocational training centre for CCTV installation training.
Award wining level – 3 qualification in CCTV installation, for more details please call us on 02083201445, 02083201042 or 07724419413