Cloud storage for CCTV system
Recently, cloud based platforms have become very popular in CCTV storage. Storing video footage in cloud based software provides many benefits.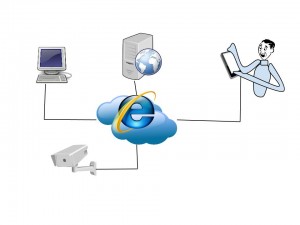 What is cloud storage?
Cloud storage is virtual storage used for storing CCTV video footage. Instead of storing on a hard drive or other forms of storage devices, it is easy and secure to store
them in a cloud based software. More often than not, web hosting companies provide this service and they charge you depending on your storage requirement.
Why should I store CCTV video footage into Cloud?
There are many advantages in selecting cloud storage for CCTV. Let us look into some of the setbacks of traditional storage:
• You can view the files from anywhere at anytime
• When recorded on a hard drive, files and data can get damaged
• Misuse – Files can be deliberately deleted or can be copied
• In the event of a fire or any other natural disasters you will lose everything stored on a hard drive
• Physical security measurements are required to protect data files.
Advantages of using Cloud storage
When it comes to CCTV storage, cloud storage provides some distinct advantages:
• No physical hardware required
• More secure way of storing data
• Easy to analyse data
• Fast remote access
• Easy to integrate with other devices.
Are there any setbacks in cloud based CCTV storage?
Internet
In order to access the stored video files, you should have an internet connection or some form of network connection
Security
As you are using a third party server to store video footage, sometimes it may not be clear how these files are encrypted.
Expensive
As you are using a third party server, it can be expensive.
Software compatibility
It may not be easy to integrate your local system with the cloud platform.
Ownership
As you do not have full control of the server, it can sometimes result in business conflict.
Conclusion
In conclusion, cloud storage is a major breakthrough in CCTV storage technology. But it can't replace traditional storage, however it can be used as secondary or backup
storage.
Do you want to learn more about CCTV installation? why not join CCTV installation training.