CCTV Installation Course
Student's testimonial
Vinesh
I am a bus driver from Hounslow, I work hard and enjoy my profession. However, I always wanted to do my own business and I was looking at couple of options. I have always had a desire to pursue a career in electronic security installation. But having spent many years in bus driving, I was not sure whether I can successfully start journey to pursue my goal.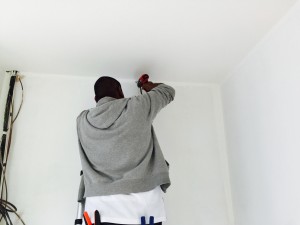 I came across F R Joseph Anton Limited, security training provider based in London, Woolwich. After checking their website, I decided to phone them. I was overwhelmed by their customer service. I spoke to receptionist Sally, she was very informative and gave me quite a lot of information about the course and course contents. I was convinced that this is the right place to do my course.
On my first day, I met Ferdinand tutor and manager. He was very friendly and always willing to help. I was simply blown away by his expertise in CCTV installation. The course was very informative and practical. Once we completed the course, we were given great tips about the sector and I was lucky to get a practical experience of a CCTV installation project.
Ferdinand was kind enough to give me an opportunity to experience CCTV installation in real word. By doing the course and going on an experience of shadowing a CCTV installer with Cube Security, I am confident that I will be a fully qualified CCTV engineer.
I highly recommend anyone thinking of starting a career in CCTV installation to start with F R Joseph Anton Limited.