Burglar Alarm Installation Training Course
We are pleased to announce that we are offering a FREE CV check service to students applying to study for our 3 day hands-on experience Intruder Alarm course in 2015-17.
This will support students looking to enter the job market. The intruder alarm installation course has been designed specifically for people who are looking to pursue a career in electronic security installation.
Mr Ebenezer and Mr Javed completed the course in April, this is what they have to say about the course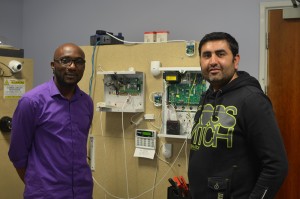 "It was an amazing experience doing a course of burglar alarm."
Javed
Javed is an experienced IT professional, who decided to continue his career in electronic security installation. Javed runs a security company in East London and he has successfully installed CCTV systems to commercial and domestic customers in East London.
We wish Javed all the best with his new venture of Intruder Alarm Installation.
Ebenezer is already known to us from CCTV installation course, we are very excited to hear that he was able to complete almost 7 CCTV projects in just two months period. We wish Ebenezer all the best for his professional career as CCTV & Alarm Installer.
If you looking to expand your current income stream or looking to pursue career in burglar alarm installation, this three day hands on experience course will equip you with all what you need.
For more information about burglar alarm installation course, please call us or send us an email.