How to connect a PTZ camera with sensors?
PTZ cameras are very common in a security surveillance system. There are many advantages in using a PTZ camera. PTZ cameras can track and trace an object and this is a very important feature in a security surveillance system. There are two ways you could make a PTZ camera to track an object, first to employ a security guard and he/she will be controlling the camera via joystick. This option is quite expensive as this involves paying the guards and other possible expenses as welfare for guard and etc. The second option is to have a fully automated sensors working with PTZ.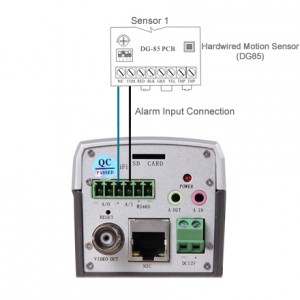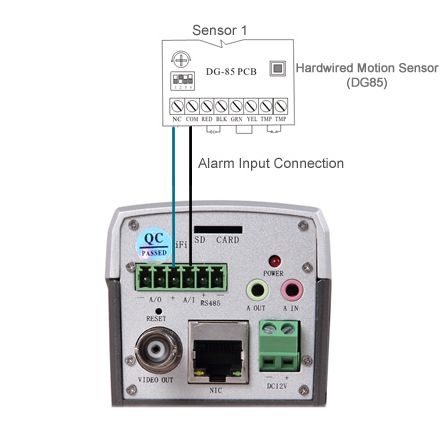 PTZ cameras working with sensors have become a popular technique in CCTV installation. In this article we will look into the technical connection between PTZ cameras and sensors. In order to understand more about sensors, we should have a clear understanding of how sensors work.
Most sensors use passive infrared signals to detect movements. As soon as infrared signals are obstructed by a moving object, it will activate a signal and often this is cause by a diode or simple relays in the PIR.
Let's look at how to connect a PTZ camera with sensors. PTZ cameras come with three main connections video, power and data. There are few PTZ cameras from leading manufacturer that come with an alarm input, normally theses inputs have RS485 interface. By connecting these inputs with alarm sensor's NC or NO and GND will make connection with PTZ camera.
This diagram illustrate alarm inputs in a box camera
If you don't see any alarm inputs with your PTZ camera, you can still connect sensors by connecting them direct with DVR. In that case, NC or NO and GND from DVR will be connected with sensors.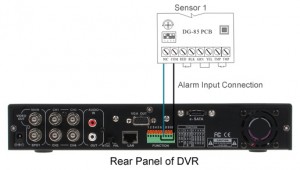 Once you have physically connected the alarm input with sensors, now you have to tell PTZ or DVR how to response to each alarm inputs. We call them preset modes, you will find that different DVR and PTZ makes have different preset modes (You can check this from the manufacturer manual). You can customise the preset mode and make your own pattern. For example, when sensor 1 triggers, camera should rotate in 180 degree.
As a CCTV installer you will be working with your customer to identify what preset mode they require and this can be either programmed in PTZ or DVR.
I hope this article gave you some insights in wiring a PTZ camera with sensor. Please subscribe to our mail list for free articles and information about CCTV installation.