Intruder Alarm Panel Programming
I have encountered many intruder alarm engineers who are scared of programming an intruder alarm panel. Obviously, they are good with wiring the whole alarm system. Despite this, they are not confident in programming every panel. They may be good with one particular brand but not others. This is not good when it comes to troubleshooting.
In my lectures, I always explain and demonstrate the similarities between different brands. At Cube training, that is why we use three different brands.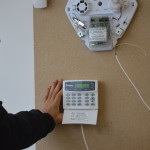 Let's see some of the features that will come with all brands. The reason behind this is that all manufacturers should comply with British Alarm standards. Therefore, they should have some default features.
Exit and entry time delay
An entry delay is the amount of time given by the system before the alarm is triggered. The idea of having an entry delay is because you need some time to get to the keypad and punch the password. By default, many systems come with 30 seconds delay. You can change this from 0 to 99 seconds. This feature is the same with all panels.
Exit time or delay gives you the time to set the alarm panel and leave the premises. It is normally set at 30 seconds. It all depends on how long it will take you to exit the place after setting the panel.
Intruder or instant or guard
Different brands use different names to identify this zone type. Once a panel is set, if these zones are triggered, it will instantly put the panel into alarm mode. In another words, no delay is programmed.
Panic alarm and silent panic alarm
Once you program a zone to PA or silent PA, if it is triggered, the panel will instantly go to alarm mode. Silent PA type zones will not trigger any sound or strobe, but it will trigger all other communication outputs.
24 hour zone
This zone will be armed all the time. Break glass is a very good example of a 24 hour zone.
Fire zone
This zone is very similar to a 24 hour or PA zone. This zone will be active or armed all the time.
Final
Zones of this type must be the first to be activated on entry, and when exiting the premises this zone should be triggered.
Not used or not active or spare
The system ignores this type of zone.
In conclusion, it is not tough to program an intruder alarm panel. Texecom Elite, Honeywell Galaxy, and Pyronix Enforcer are some of the systems that we use in our training.
If you are looking for a hands-on experience course with a highly recognizable qualification, why not do our level 3 Award in Intruder Alarm Installation course?
Like our facebook page and subscribe to our youtube channel.