Access Control Installation Training
Access control refers to security measurements in place to restrict or control access to a certain physical location. Systems known as Access Control will decide who can access a specific premise and have predefined privileges.
This overview explains the basic components in an Access Control system and equipments used in controlling access.
The followings are the basic components in an Access Control system:
Controlled device
Input device
Panel
Power supply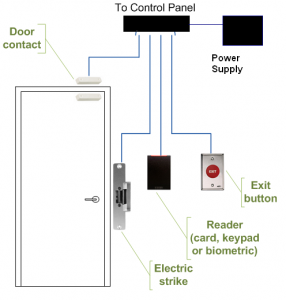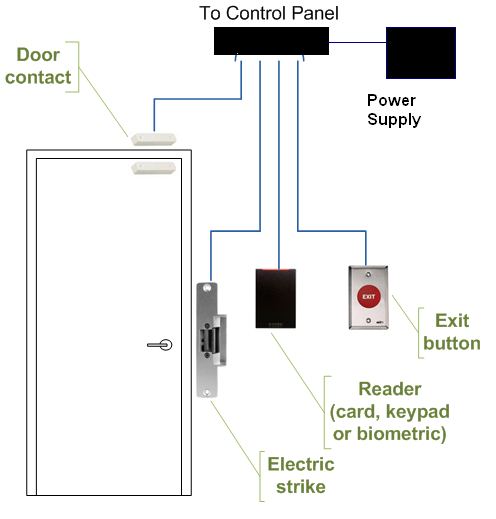 Controlled devices –
These devices physical controls the access, devices such as magnetic strike, magnetic locks, barriers, turnstiles and other type of controlled devices. Most of these devices either work in 12V or 24V DC or AC power. When current is supplied or disconnected, these devices will operate.
Controlled devices should be connected to server its purpose, for example fails to open or fails to close.
Input devices –
Input devices will verify user credential, this can be a piece of knowledge or something a person knows PIN, access code or something that he or she carrys with them (Keyfobs, Proxy cards, Swipe cards and etc).
Panel –
Panel will control all other components in access control. Panel may defer based on the complexity of the project, if it is a large project with multiple entry and exits, you may need number of panels connected via a control unit. If it is a smaller system, you may need a standalone panel controlling access control components.
Power supplies –
Most of the power supplies covert AC line voltage to DC line voltage as many access control components work with DC power. In a large system, number of power supplies can be used to power different types of components.
Learn more by enrolling on our 2 day practical Access control installation training, places are truly limited!
Please call us on 02083201445 to find out more about our next Access control installation training.