Want to Expand Your Expertise? Interested in the Field of Security?
CCTV Course, Fire Alarm Course, Intruder and Burglar Alarm Course, Access Control Training
Take Your Pick and Get Qualified in Days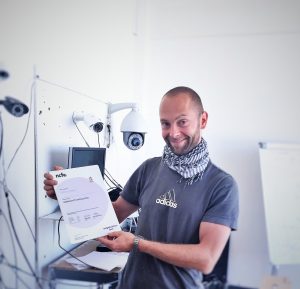 CCTV Course – Learn how to Install and Maintain CCTV systems – all in 3 days!. We provide you with up-to-date practical knowledge that puts your leg on the right path. Learn more.
          Advance Intruder Alarm course – Want to become an Intruder Alarm engineer by installing intelligent Intruder Alarm systems? Learn all the necessary elements to become competent in the field. Join our 2-day course. Learn more.
         Access Control Course – Two day course in Access Control, learn about standalone access control and door entry systems. This course is suitable for anyone who is interested in starting a career in Access Control. At the completion of the course, you will awarded with a certificate in Access Control System Installation. Learn more.

        Intruder Alarm Course – In a big city like London burglary is an issue. Intruder alarm istallation is a great way to expand your expertise and increase your income. A 3-day-course for a new career. Learn more.
---
Some of our customers includes local authorities and blue chip companies…
Testimonials

Before I came to the CCTV course, I'd had some experience in internet security. However, I did not have much real life experience in physical security and access control; that's why I was attracted to do this course. The greatest thing about this course is that it has provided me with real experience and I've built up my confidence. Andrew
I worked in security installation before I came to the CCTV course. I'd already known a lot about the stuff. However, I needed a certificate because I wanted to get a new job and I also wanted to do IP, I am very happy with the resultVeaceslav Cubani – Director – Vesday CCTV system
'I would Like to thank Ferdinand for his support and sharing his wealth of experience and knowledge In CCTV Security Systems, I am an Ex-Police officer with no DIY background at all, however the course has given me greatest insight within the CCTV Sector, which has added to my portfolio of Security and Law Enforcement experience'. –Jaspal Lall CEO JS Secuirty Solution Limited (Ex-Police Officer)
I am a computer analyst but when I came to the course, my knowledge of CCTV technology was close nothing. I came to the training because I want to start a business in Nigeria. I really liked the practical and interactive way of delivery during the lessons. Now I have got a good understanding of CCTV systems which I am satisfied with. Oke E. Kolawole – Nigerian Businessman
I learned a lot of useful skills and knowledge, the course was fantastic. It gave me opportunity to increase my practical knowledge I have already known, reinforced by a professional. I would definitely recommend this course; it was well organised and professionally managed. Abiola Ifayomi – CCTV Installer Nigeria
The course was very informative, Justin is competent to put what he has learnt into practice and feels safe that has the knowledge of knowing that he has you as a continued support. He could not have done this without the course. Linda Smith – Director – 1st Action Kent Limited